Hello Everyone!
I just wanted to share some exciting news with you! Debbie from Ephemera's Vintage Garden has asked me to be a Guest Designer for August! I'm so excited! OK, I'm super excited!!
I can't wait to share the projects I create using her printables!
Thank you so much for the opportunity Debbie! I know I will enjoy creating fun projects with your work!
I hope you go check out Debbie's website and enjoy her work as much as I do!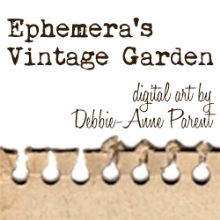 Hope everyone has a lovely weekend!Thanks for stopping by!
Scrap & Be Happy!